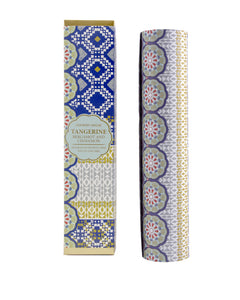 Enrich with fibre cellulose and delicious fragrance blends
Designed for the drawer and garments use. Isolate the cloth from wooden surface of cabinet
The scents disperse a lovely and fresh aroma which perfume the whole drawer and well protect your cloth.
Delicately perfuming the air with the delicious scent
Protect and refresh your drawers for approximately 3 months (subject to the size of wardrobe)
Pieces: 5 pcs
Packaging Dimension: 7.5 x 7.5 x 34.5cm / Drawer Liner Dimension: 51 x 34 cm
INSTRUCTION
To release the fragrance onto your clothing, cut the drawer liners to the required size and place in the the base of your drawer.
CAUTION
Keep out of reach of children. Not for consumption. Caution should be used when placing fragranced items on wood finishes and fine fabric. Avoid getting drawer liners wet.
ENQUIRY
| | |
| --- | --- |
| | +852 9355 0752 |
| | +852 2961 4598 |
| | cs@countryhouse.cc |