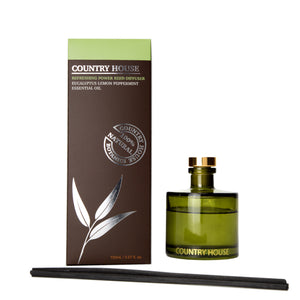 Refreshing Power Reed Diffuser
OVERVIEW
Made with the highest concentration of essential oil and delicately perfuming the air.
Rich with Eucalyptus, Lemon and Peppermint. Get fresh and living with botanical inspiration. Joyful with natural health life.
No heating is required. 100% safe.
Lasting for 2 - 3 months depending on the environment and temperature
Reeds Diffuser volume: 150mL
Packaging Measurement: 87 mm (L) x 87 mm (W) 235 mm (H)
INSTRUCTION
Remove the stopper from the top of the bottle with caution. Immerse the reeds into the bottle. Occasionally turn reeds to refresh the fragrance or carefully remove the reeds from the bottle, rotate by 180 degrees and re-immerse into the liquid.
Keep out of reach of children and pets. Contain Fragrance oil. Do not ingest. If swallowed, do not induce vomiting and consult your doctor. In case of contact eyes, rinse immediately with plenty of water and seek medical advice. After contact with skin wash immediately with soap and water. Avoid contact with fabrics as oil may cause staining.
ENQUIRY
| | |
| --- | --- |
| | +852 9355 0752 |
| | +852 2961 4598 |
| | cs@countryhouse.cc |