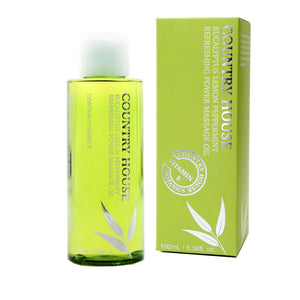 Refreshing Power Massage Oil
Rich with Eucalyptus oil, Lemon oil and Peppermint oil
Light & non-sticky texture
Calming, Clears the mind and Refreshment
Suit all skin types. Easily wipes or rinses out
Botanical Essence and essential oil imported from Australia
Active Composition
Eucalyptus oil, Lemon oil, Peppermint oil, Jojoba oil, Almond Sweet oil, Soya Bean oil and Vitamin E
Eucalyptus creates a cooling and refreshing effect. Eucalytpus oil, a stimulant, removes exhaustion and mental sluggishness and rejuvenates the spirits of the sick. It can also be effective in the treatment of stress and mental disorders.
Lemon oil is calming in nature and therefore helps in removing mental fatique, exhaustion, dizziness, anxiety, nervousness and nervous tension. It is also believed that inhaling lemon oil helps in increasing concerntration and alertness.
Peppermint is effective against anxiety and restlessness. Furthermore, it stimulates mental activity, clears the mind, and increases focus on cognitive tasks.
Usage & Caution
Drop 5-10 massage oil on the palms. Softly move the palms circularly to keep it warm. Gently spread the oil over the body, legs and arms.Keep out of reach of children. For external use only. Do not use on eyes or the lips. If irritation occurs, discontinue use immediately. If pregnant, consult your doctor before use. Storage below 30degree Celsius.。
+852 9355 0752
+852 2961 4598
cs@countryhouse.cc