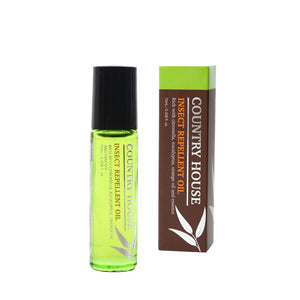 Country House Insect Repellent Roll On Oil
Product Details
Rich with Natural Citronella, Eucalyptus, Orange essential oil and botanical essence
Fresh, Comfortable and Non-sticky Formulation
Roll on design and easily apply on skin
Contain Vitamin E soothing and moisturizing your skin
Suitable for any person and age over 6 months
No DEET
Volume: 10mL / 0.338 fl.oz.
Ingredient of Insect Repellent Roll On Oil
Citronella
Citronella which is a plant-based insect repellent for this use in United States. The United States Environmental Protection Agency considers oil of citronella as a biopesticide with a non-toxic mode of action.
Eucalyptus Citriodora
This is not all Eucalyptus having insect repellent power. Just Eucalyptus Citriodora can do it. It easily finds the species in the north east of Australia. The stem and leaves of Eucalyptus Citriodora fully consist of citronellal so that it is commonly extracted and utilizes for most insect repellent products
Sweet Orange
The Orange is valuable fruit not for its edibility, but for the high quantities of the substance limonene, sometimes called d-limonene, found in its peel. Limonene is a safe and well-known pesticide. It is also found in many commercial insect repellents.
Vitamin E
Vitamin E is effective in reducing sun-induced skin wrinkling and has excellent skin moisturizing properties and helping to prevent transepidermal water loss by skin
INSTRUCTION and CAUTION

Apply carefully to all areas of exposed skin. Taking care to avoid eye and lips. Renew application every 5 hours or as necessary.
Keep out of reach of children. For external use only. Do not use on eyes or the lips. If irritation occurs, discontinue use immediately. If pregnant, consult your doctor before use. Storage below 30 degree Celsius.
ENQUIRY
| | |
| --- | --- |
| | +852 9355 0752 |
| | +852 2961 4598 |
| | cs@countryhouse.cc |