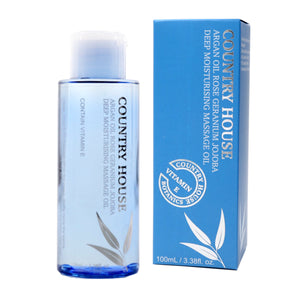 Deep Moisturizing Massage Oil
Rich with pure Argan Oil, Rose Geranium Oil Jojoba Oil
Soothing your mind and get super relaxation!
Light & non-sticky texture
Softening, Super Hydrating & Luxurious
Suit all skin types. Easily wipes or rinses out
Botanical Essence and essential oil imported from Australia
Active Composition
Organic Argan oil, Rose Geranium, Jojoba oil, Almond Sweet oil, Soya Bean oil and Vitamin E
Organic Argan is of great interest in skin care for its richness in essential fatty acids, especially oleic and linoleic acids. It softens and protects the skin and is a good ingredient for nourishing and moisturising massage oil. It is particularly convenient for dry skin and sensitive skin.
Rose Geranium has a balance the secretion of sebum and clears sluggish and oily skins. While the antiseptic and cicatrisant properties make this oil an effective aid to help with burns, woulnds, ulcers and other skin problems.
Jojoba oil act as an excellent moisturizier. The best part is that it supplies the skin with adequate moisture without blocking the skin pores. It is suitable for all types of skin
Usage & Caution
Drop 5-10 massage oil on the palms. Softly move the palms circularly to keep it warm. Gently spread the oil over the body, legs and arms.Keep out of reach of children. For external use only. Do not use on eyes or the lips. If irritation occurs, discontinue use immediately. If pregnant, consult your doctor before use. Storage below 30degree Celsius.。
ENQUIRY
| | |
| --- | --- |
| | +852 9355 0752 |
| | +852 2961 4598 |
| | cs@countryhouse.cc |