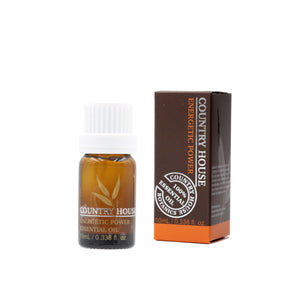 Country House Energetic Power Essential Oil
Product Features
100% Essential Oil
Blended with Pink Grapefruit, Sweet Orange and Ginger Oil
Rich with botanical essence and anti-oxidant
Instantly recover and power up by natural botanics
The highest quality and powerful performance! Active ingredients and formulated from Australia
INGREDIENTS OF BLENDS
Pink Grapefruit, Sweet Orange oil and Ginger Oil
Sweet Orange promotes a feeling of happiness and warmth when used in aromatherapy.Orange oil is rich with vitamin. It is very good for maintaining healthy, smooth and glamorous skin.
Grapefruit Pink is naturally high in antioxidants and phytochemicals that reduce oxidative stress and disease-causing irritation. Grapefruit essential oil contains other powerful antioxidants, including vitamin C, myrcene, terpinene, pinene and citronellol.
Ginger is suited for use as an additive in massage oils for the warming up of the muscles, relaxing and energising.
Foot Bathing and Massage
Add 3 - 5 drops in small tub or bowl of hot water. Soak Foot into the water with 10 - 15 mins and softly massage the foot if necessary.
Body Massage
10-15 drops per 30 ml of vegetable oil or unscented lotion for massage. Softly move the palms circularly to keep it warm. Gently spread the oil cover the body, legs and arms.
Bathing
Add 5-10 drops in bath tub filled with hot water and mix. Immerse the body into the bath tub and let the skin absorb the essence from essential oil.
Inhalation
Add 3 - 8 drops in a bowl of hot water, cover head and bowl with towel
or
Use 5 - 10 drops in machine diffuser or burner with proper amount of water or floral water. light candle and leave burn for up to 5mins. Blow out candle after use.
CAUTION
Keep out of reach of children. For external use only. Do not use on eyes or the lips. If irritation occurs, discontinue use immediately. If pregnant, consult your doctor before use. Storage below 30 degree Celsius.
ENQUIRY
| | |
| --- | --- |
| | +852 9355 0752 |
| | +852 2961 4598 |
| | cs@countryhouse.cc |