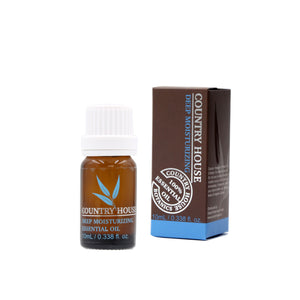 Deep Moisturizing Power Essential Oil
Product Features
100% Essential Oil
Blended with Argan Oil and Rose Geranium
Rich with botanical essence and anti-oxidant
Super hydrating with softening and nourishing power. Suitable for all skin especially for dry skin
The highest quality and powerful performance! Active ingredients and formulated from Australia
INGREDIENTS OF BLENDS
Argan Oil and Rose Geranium
Organ Argan is of great interest in skin care for its richness in essential fatty acids, especially oleic and linoleum acids. It softens and protects the skin and is good ingredient for nourishing and moisturizing massage oil. It is particularly convenient for dry skin and sensitive skin.
Rose Geranium has a balancing effect on the nervous system and relieves depression and anxiety, while lifting the spirits and making the world an easier place to live in. It has a balancing effect and is great for relieving stress.
Foot Bathing and Massage
Add 3 - 5 drops in small tub or bowl of hot water. Soak Foot into the water with 10 - 15 mins and softly massage the foot if necessary.
Body Massage
10-15 drops per 30 ml of vegetable oil or unscented lotion for massage. Softly move the palms circularly to keep it warm. Gently spread the oil cover the body, legs and arms.
Bathing
Add 5-10 drops in bath tub filled with hot water and mix. Immerse the body into the bath tub and let the skin absorb the essence from essential oil.
CAUTION
Keep out of reach of children. For external use only. Do not use on eyes or the lips. If irritation occurs, discontinue use immediately. If pregnant, consult your doctor before use. Storage below 30 degree Celsius.
ENQUIRY
| | |
| --- | --- |
| | +852 9355 0752 |
| | +852 2961 4598 |
| | cs@countryhouse.cc |