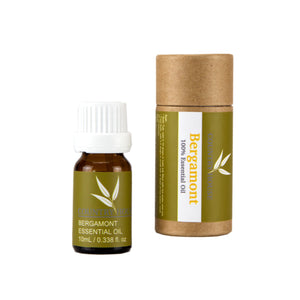 100% Pure Bergamot Essential Oil
Product Detail
Species Name:Citrus Bergamia
Position: Fruit
Type of scent: Citrus Scent
Product Name: 100% Bergamot Essential Oil
Country House 100% Bergamot essential oil has an uplifting aroma which has been known to uplift the mood. They create a feeling of freshness, joy and energy in cases of sadness and depression by improving the circulation of the blood. In skin care, it can be used for oily skin types. They inhibit the growth of germs, virus and fungi. Bergamot essential oil is an excellent deodorant. It's refreshing aroma and disinfectant properties, which inhibit growth of germs causing body-odor, make it an effective and attractive delivery system as a deodorant.
100% Pure and Natural. No chemical additive.
volume: 10mL / 0.338 fl. oz.
Function of Bergamot
Bergamot is a citrus fruit. Its powerful aroma makes it a popular component in many perfumes, and it is often used as the all-important "top note".
Bergamot can inhibit the growth of bacteria and fungi. It also greatly avoids infections. Regularly used with shower gel or soap, the skin and hair remains protected from infections and become shiny.
Bergamot can act as a relaxants. It soothes nerves and reduce nervous tension, anxiety, and stress, all of which can help cure or treat ailments associated with stress such as sleeplessness, high blood pressure, insomnia, and depression.
Bergamot is the most popular deodorant in the world. Bergamot not only inhibit growth of bacteria which generate odor but also overcome or eliminate many other odors that people smell in a certain area. Therefore, bergamot oil is always used on aspect for home fragrance.
Instruction
Foot Bathing and Massage
Add 3 - 5 drops in small tub or bowl of hot water. Soak Foot into the water with 10 - 15 mins and softly massage the foot if necessary.
Body Massage
10-15 drops per 30 ml of vegetable oil or unscented lotion for massage. Softly move the palms circularly to keep it warm. Gently spread the oil cover the body, legs and arms.
Bathing
Add 5-10 drops in bath tub filled with hot water and mix. Immerse the body into the bath tub and let the skin absorb the essence from essential oil.
Inhalation
Add 3 - 8 drops in a bowl of hot water, cover head and bowl with towel
or
Use 5 - 10 drops in machine diffuser or burner with proper amount of water or floral water. light candle and leave burn for up to 5mins. Blow out candle after use.
CAUTION
Keep out of reach of children. For external use only. Do not use on eyes or the lips. If irritation occurs, discontinue use immediately. If pregnant, consult your doctor before use. Storage below 30 degree Celsius.
ENQUIRY
| | |
| --- | --- |
| | +852 9355 0752 |
| | +852 2961 4598 |
| | cs@countryhouse.cc |