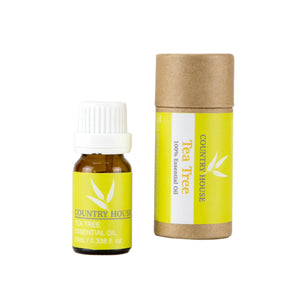 100% Tea Tree Essential Oil
Product Detail
Species Name:Melaleuca alternifolia
Position: leave
Type of scent: herbaceou Scent
Product Name: 100% Tea Tree Essential Oil
Country House 100% Tea Tree Essential Oil has a strong herbaceous scent which is always mixed with citrus or lemon in skincare products. Tea Tree is useful for skincare products because of its anti-microbial properties.
100% Pure and Natural. No chemical additive.
volume: 10mL / 0.338 fl. oz.
Function of Tea Tree
Tea Tree is well-known for its powerful antiseptic properties and ability to treat wounds.Tea tree oil uses are numerous: making homemade cleaning products, diffusing it in the air to kill mold, applying it topically to heal skin issues and using it to treat viral infections. One of the most common uses for tea tree oil today is in skin care products, as it's considered one of the most effective home remedies for acne.
Tea tree oil has antimicrobial properties that destroy the bacteria on your skin that causes body odor. It can act as a powerful deodorizing agent, eliminating not only the smell of body odor, but also the bacteria and toxins that can increase its potency.
It is obvious that an essential oil that is so deadly for bacteria and viruses will be effective against insects as well. Tea tree oil is an efficient insect deterrent and insect killer. It does not let parasites and other insects like mosquitoes, fleas, lice, or flies come near someone who has rubbed some of this oil on their body.
Instruction
Foot Bathing and Massage
Add 3 - 5 drops in small tub or bowl of hot water. Soak Foot into the water with 10 - 15 mins and softly massage the foot if necessary.
Body Massage
10-15 drops per 30 ml of vegetable oil or unscented lotion for massage. Softly move the palms circularly to keep it warm. Gently spread the oil cover the body, legs and arms.
Bathing
Add 5-10 drops in bath tub filled with hot water and mix. Immerse the body into the bath tub and let the skin absorb the essence from essential oil.
Inhalation
Add 3 - 8 drops in a bowl of hot water, cover head and bowl with towel
or
Use 5 - 10 drops in machine diffuser or burner with proper amount of water or floral water. light candle and leave burn for up to 5mins. Blow out candle after use.
CAUTION
Keep out of reach of children. For external use only. Do not use on eyes or the lips. If irritation occurs, discontinue use immediately. If pregnant, consult your doctor before use. Storage below 30 degree Celsius.
ENQUIRY
| | |
| --- | --- |
| | +852 9355 0752 |
| | +852 2961 4598 |
| | cs@countryhouse.cc |