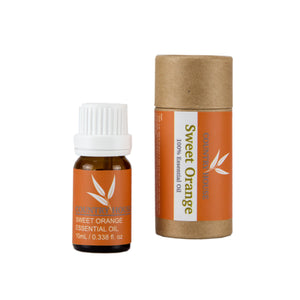 100% Sweet Orange Essential Oil
Product Detail
Species Name:Citrus sinensis
Position: Fruit skin
Type of scent: Citrus fruit
Product Name: 100% Sweet Orange Essential Oil
Country House 100% Sweet Orange essential Oil has a fresh citrus fruit scent which is most popular and remarkable. The oil has relieving stress and calming emotion properties. It is also good for digestion and circulation. Orange sweet essential oil activates and nourishes skin effectively.
100% Pure and Natural. No chemical additive.
volume: 10mL / 0.338 fl. oz.
Function of Orange
The most prominent active ingredients in orange are limonene (which is about 85–96 percent of the extract) and myrcene (0.5–3 percent). Limonene is especially considered a powerful antioxidant that fights free radical damage and inflammation that can lead to various diseases. These compounds are considered types of monoterpenes that are a dietary component in many citrus oils that have demonstrated anti-tumor activities.
The orange promotes a feeling of happiness and warmth when used in aromatherapy. It helps in the elimination of toxins in the body and deals well with digestive problems. It helps in stimulating lymphatic action to promote balance in water processes and results in detoxification of your body.
Citrus fruits are known to provide high levels of vitamin C that help protect and heal skin, making oranges one of the best vitamin C foods around. Orange essential oil is also very beneficial for fighting signs of aging like wrinkles and dark spots since it promotes the production of collagen. Because of its antioxidant power, it slows the rate of skin damage experienced from UV light exposure, pollution and toxicity.
Instruction
Foot Bathing and Massage
Add 3 - 5 drops in small tub or bowl of hot water. Soak Foot into the water with 10 - 15 mins and softly massage the foot if necessary.
Body Massage
10-15 drops per 30 ml of vegetable oil or unscented lotion for massage. Softly move the palms circularly to keep it warm. Gently spread the oil cover the body, legs and arms.
Bathing
Add 5-10 drops in bath tub filled with hot water and mix. Immerse the body into the bath tub and let the skin absorb the essence from essential oil.
Inhalation
Add 3 - 8 drops in a bowl of hot water, cover head and bowl with towel
or
Use 5 - 10 drops in machine diffuser or burner with proper amount of water or floral water. light candle and leave burn for up to 5mins. Blow out candle after use.
CAUTION
Keep out of reach of children. For external use only. Do not use on eyes or the lips. If irritation occurs, discontinue use immediately. If pregnant, consult your doctor before use. Storage below 30 degree Celsius.
ENQUIRY
| | |
| --- | --- |
| | +852 9355 0752 |
| | +852 2961 4598 |
| | cs@countryhouse.cc |