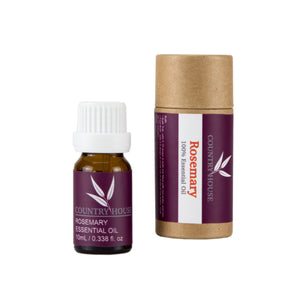 100% Rosemary Essential Oil
Product Detail
Species Name:Rosmarinus officinalis
Position: leave and stem
Type of scent: Strong herbaceous scent
Product Name: 100% Rosemary Essential Oil
Country House 100% Rosemary Essential Oil has traditionally been used for its analgesic properties and has been known to help tired, stiff and overworked muscles. For hair care, Rosemary Essential oil is always used to treated with dry scalp and dandruff. Moreover, it helps to improve memory.
100% Pure and Natural. No chemical additive.
volume: 10mL / 0.338 fl. oz.
Function of Rosemary
Rosemary has a very strong scent of woody and herbaceous scent evergreen like scent. Investigation from some of research, it reports that rosemary can boost nerve growth factor and support the healing of neurological tissue and brain function. It is a powerful herbs to get great improvement for memory.
Rosemary has become a popular ingredient in many skin and hair care products due to its antiseptic properties. It highly relieves the muscle pain and enhance the skin and muscle circulation. Mostly, many people utilize rosemary to treat hair dandruff and stimulate the hair growth.
Essentially, by helping enhance the performance of the bile-producing gallbladder proper peristaltic activity is promoted, which boosting nutrient absorption and helps reverse/prevent toxic overload.
Instruction
Foot Bathing and Massage
Add 3 - 5 drops in small tub or bowl of hot water. Soak Foot into the water with 10 - 15 mins and softly massage the foot if necessary.
Body Massage
10-15 drops per 30 ml of vegetable oil or unscented lotion for massage. Softly move the palms circularly to keep it warm. Gently spread the oil cover the body, legs and arms.
Bathing
Add 5-10 drops in bath tub filled with hot water and mix. Immerse the body into the bath tub and let the skin absorb the essence from essential oil.
Inhalation
Add 3 - 8 drops in a bowl of hot water, cover head and bowl with towel
or
Use 5 - 10 drops in machine diffuser or burner with proper amount of water or floral water. light candle and leave burn for up to 5mins. Blow out candle after use.
CAUTION
Keep out of reach of children. For external use only. Do not use on eyes or the lips. If irritation occurs, discontinue use immediately. If pregnant, consult your doctor before use. Storage below 30 degree Celsius.
ENQUIRY
| | |
| --- | --- |
| | +852 9355 0752 |
| | +852 2961 4598 |
| | cs@countryhouse.cc |