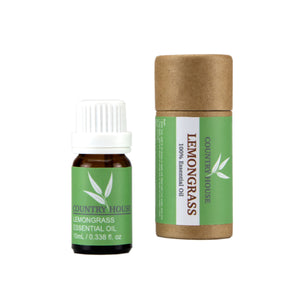 100% Lemongrass Essential Oil
Product Detail
Species Name:Cymbopogon flexuosus
Position: leave
Type of scent: Citrus Scent
Product Name: 100% Lemongrass Essential Oil
Country House 100% Lemongrass Essential Oil have freshly lemon scents. It can be attributed to relieve headaches and fever. The oil is well-known natural insect repellent. It also relieves anxiety, irritability, and insomnia. Lemongrass oil benefits also include pain and ache relief. The oil helps to improve blood circulation, and can therefore relieve muscle spasms, back aches, sprains, and cramps. Try rubbing diluted lemongrass oil on your body or make your own lemongrass oil foot bath.
100% Pure and Natural. No chemical additive.
volume: 10mL / 0.338 fl. oz.
Function of Lemongrass
Natural Insect Repellent. Lemongrass contains high citral and geraniol that repel insect such as mosquitoes. This natural repellant has a mild smell and can be applied directly on the skin. Compared with DEET or other repellent chemical, lemongrass is safe and no side effect for health.
Lemongrass has skin healing properties. It is always added into shampoos, conditioners, deodorants, soaps, and lotions. Lemongrass is a perfect cleansing agent for all types of skin. The antiseptic and astringent properties make lemongrass for well getting even and glowing skin. It can sterilize your pores, serve as a natural toner, and strengthen your skin tissues.
Lemongrass can relieve anxiety and insomnia. It also helps to improve the quality of sleep.
Instruction
Foot Bathing and Massage
Add 3 - 5 drops in small tub or bowl of hot water. Soak Foot into the water with 10 - 15 mins and softly massage the foot if necessary.
Body Massage
10-15 drops per 30 ml of vegetable oil or unscented lotion for massage. Softly move the palms circularly to keep it warm. Gently spread the oil cover the body, legs and arms.
Bathing
Add 5-10 drops in bath tub filled with hot water and mix. Immerse the body into the bath tub and let the skin absorb the essence from essential oil.
Inhalation
Add 3 - 8 drops in a bowl of hot water, cover head and bowl with towel
or
Use 5 - 10 drops in machine diffuser or burner with proper amount of water or floral water. light candle and leave burn for up to 5mins. Blow out candle after use.
CAUTION
Keep out of reach of children. For external use only. Do not use on eyes or the lips. If irritation occurs, discontinue use immediately. If pregnant, consult your doctor before use. Storage below 30 degree Celsius.
ENQUIRY
| | |
| --- | --- |
| | +852 9355 0752 |
| | +852 2961 4598 |
| | cs@countryhouse.cc |