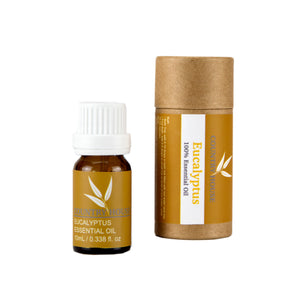 100% Eucalyptus Essential Oil
Product Detail
Species Name:Eucalyptus Radiata
Position: leaves
Type of scent: Herbaceous Scent
Product Name: 100% Eucalyptus Essential Oil
Country House 100% Eucalyptus Essential Oil has the strong aroma of eucalyptus with herbaceous scent. It's a wonderful air freshener, great for clearing the air. It has a calming and refreshing properties. The essential oil is widely used as odor remover and air cleanser. Eucalyptus is excellent for relieving cold and Flu. It helps cleanse the toxins and harmful inside your body. Eucalyptus is one of important Insect Repellent agent.
100% Pure and Natural. No chemical additive.
volume: 10mL / 0.338 fl. oz.
Function of Eucalyptus
Eucalyptus has a good calming and refreshing properties. It highly enhance the concentration and clear the mind. It disperse give a friendly and fresh fragrance to room. It provide antiseptic function as well.
For Home Fragrance, adding a few drops into your vacuum and tumble dryer to freshen and sanitize the cloth. Also, it has a great function for anti-mold and you can blended the eucalyptus with clove or tea tree to cleanse and maintain a mold-free room.
Eucalyptus is an excellent grease and grime remover for skincare. It can rejuvenate skin when mixed into your bath product.
Eucalyptus is one of excellent insect repellent. Its scent and essences efficiently repel most of insect especially mosquito. For more powerful repelling function, It can be used with electrical aroma diffuser or oil burner.
Instruction
Foot Bathing and Massage
Add 3 - 5 drops in small tub or bowl of hot water. Soak Foot into the water with 10 - 15 mins and softly massage the foot if necessary.
Body Massage
10-15 drops per 30 ml of vegetable oil or unscented lotion for massage. Softly move the palms circularly to keep it warm. Gently spread the oil cover the body, legs and arms.
Bathing
Add 5-10 drops in bath tub filled with hot water and mix. Immerse the body into the bath tub and let the skin absorb the essence from essential oil.
Inhalation
Add 3 - 8 drops in a bowl of hot water, cover head and bowl with towel
or
Use 5 - 10 drops in machine diffuser or burner with proper amount of water or floral water. light candle and leave burn for up to 5mins. Blow out candle after use.
CAUTION
Keep out of reach of children. For external use only. Do not use on eyes or the lips. If irritation occurs, discontinue use immediately. If pregnant, consult your doctor before use. Storage below 30 degree Celsius.
ENQUIRY
| | |
| --- | --- |
| | +852 9355 0752 |
| | +852 2961 4598 |
| | cs@countryhouse.cc |