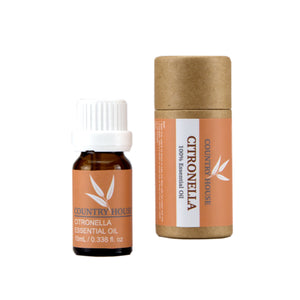 100% Citronella Essential Oil
Product Detail
Species Name:Cymbopogon nardus
Position: leave
Type of scent: Citrus Scent
Product Name: 100% Citronella Essential Oil
Country House 100% Citronella Essential Oil is a natural fragrant oil with fresh lemony scents. It has an insect repellent and antiseptic properties . The oil is well-known natural insect repellent. It also relieves inflammation caused by bacteria and help relax your mind by reducing stress reaction.
100% Pure and Natural. No chemical additive.
volume: 10mL / 0.338 fl. oz.
Function of Citronella
Natural Insect Repellent. The main components in the oil are citronellol, citronellal and geraniol. Highly keep mosquito, body lice, head lice and flies away. Citronella has actually been approved for use as a food additive by the Food and Drug Administration and has been used in many foods and drinks as a flavoring agent for more than 50 years. It has been labeled as a low risk pesticide by the U.S. Environmental Protection Agency.
Citronella has skin healing properties. It is always added into shampoos, conditioners, deodorants, soaps, and lotions. Citronella is a perfect cleansing agent for all types of skin. The antiseptic and astringent properties make citronella for well getting even and glowing skin. It can sterilize your pores, serve as a natural toner, and strengthen your skin tissues.
Citronella can relieve anxiety and insomnia. It also helps to relax your mind and contribute to reduced stress reactions and better sleep for people who can't sleep.
Instruction
Foot Bathing and Massage
Add 3 - 5 drops in small tub or bowl of hot water. Soak Foot into the water with 10 - 15 mins and softly massage the foot if necessary.
Body Massage
10-15 drops per 30 ml of vegetable oil or unscented lotion for massage. Softly move the palms circularly to keep it warm. Gently spread the oil cover the body, legs and arms.
Bathing
Add 5-10 drops in bath tub filled with hot water and mix. Immerse the body into the bath tub and let the skin absorb the essence from essential oil.
Inhalation
Add 3 - 8 drops in a bowl of hot water, cover head and bowl with towel
or
Use 5 - 10 drops in machine diffuser or burner with proper amount of water or floral water. light candle and leave burn for up to 5mins. Blow out candle after use.
CAUTION
Keep out of reach of children. For external use only. Do not use on eyes or the lips. If irritation occurs, discontinue use immediately. If pregnant, consult your doctor before use. Storage below 30 degree Celsius.
ENQUIRY
| | |
| --- | --- |
| | +852 9355 0752 |
| | +852 2961 4598 |
| | cs@countryhouse.cc |