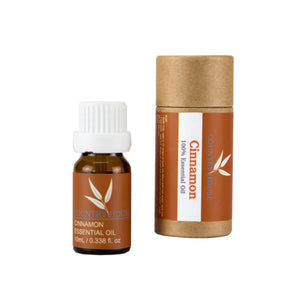 100% Cinnamon Essential Oil
Product Detail
Species Name:Cinnamomum verum
Position: bark or leaf
Type of scent: wooden Scent
Product Name: 100% Cinnamon Essential Oil
Country House 100% Cinnamon Essential Oil has a ability to enhance the immune system and effectively treat skin conditions such as rashes, acne and infections. Moreover, it is an excellent natural home deodorizer and air freshener.
100% Pure and Natural. No chemical additive.
volume: 10mL / 0.338 fl. oz.
Function of cinnamon
Cinnamon is a good fat-burning food and tool for weight loss. With excellent balancing blood sugar levels and magically improve the taste of foods without adding any sugar, it's effective for curbing a sweet tooth.
Effective at treating skin conditions such as rashes, acne and infections, you can mix cinnamon essential oil with a carrier oil (like coconut oil) and apply it to the skin to take advantage of its antimicrobial capacity.
Cinnamon has positive effects on insulin release, which means it can help keep blood sugar stable and prevent chronic fatigue, moodiness, sugar cravings and overeating. Inhaling cinnamon essential oil can also help keep cravings away and possibly make you feel full faster too.
Instruction
Foot Bathing and Massage
Add 3 - 5 drops in small tub or bowl of hot water. Soak Foot into the water with 10 - 15 mins and softly massage the foot if necessary.
Body Massage
10-15 drops per 30 ml of vegetable oil or unscented lotion for massage. Softly move the palms circularly to keep it warm. Gently spread the oil cover the body, legs and arms.
Bathing
Add 5-10 drops in bath tub filled with hot water and mix. Immerse the body into the bath tub and let the skin absorb the essence from essential oil.
Inhalation
Add 3 - 8 drops in a bowl of hot water, cover head and bowl with towel
or
Use 5 - 10 drops in machine diffuser or burner with proper amount of water or floral water. light candle and leave burn for up to 5mins. Blow out candle after use.
CAUTION
Keep out of reach of children. For external use only. Do not use on eyes or the lips. If irritation occurs, discontinue use immediately. If pregnant, consult your doctor before use. Storage below 30 degree Celsius.
ENQUIRY
| | |
| --- | --- |
| | +852 9355 0752 |
| | +852 2961 4598 |
| | cs@countryhouse.cc |